-11%
DE Riviera Maison duvet cover Estate Off-white 135x200 227780 (german size!)@
DE Riviera Maison dekbedovertrek Estate Off-white 135x200 227780 (duitse maat!)
227780 8719931481803 DE RM Estate Off-white 135x200 bij www.jolijtwebwinkel.nl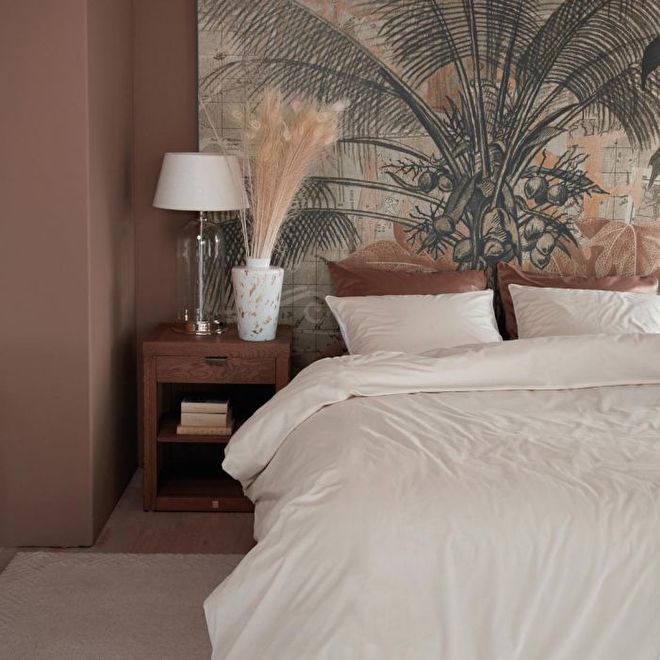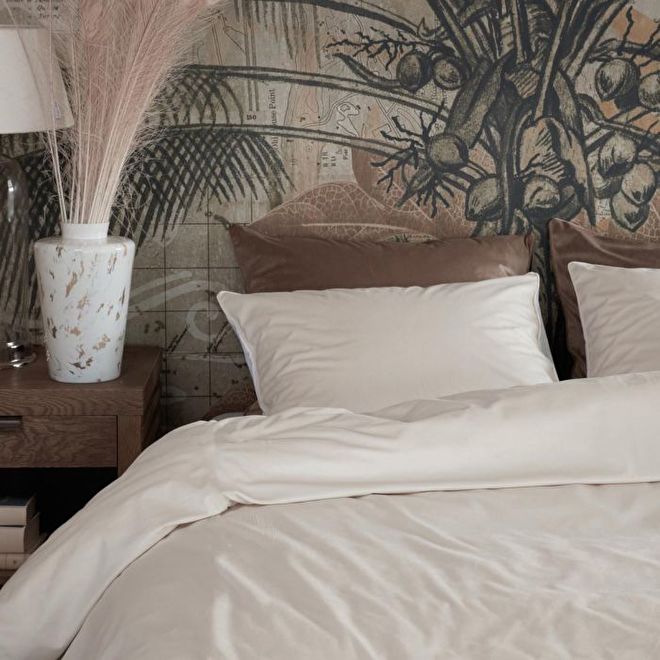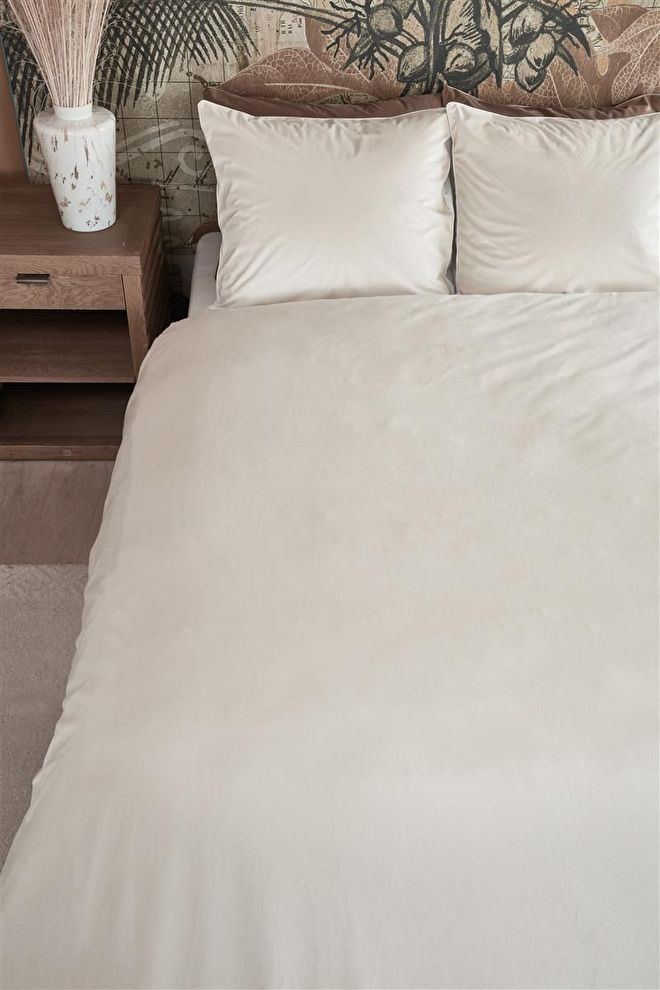 Riviera Maison Estate Off-white at www.jolijtwebwinkel.nl
Because we can't get enough of velvet yet, we are introducing new colors of the Estate duvet cover into the Rivièra Maison bed textile collection this season. This is one of them. Estate is a beautiful plain cover. The cover is easy to combine in every bedroom. The use of velvet on the front gives the cover a chic look. In addition, this fabric is also wonderfully warm and soft to sleep under. The pillowcases are finished with piping all around. The back of the cover is made of 100% cotton. Please note: to maintain quality, wash this cover at a maximum temperature of 40 degrees. We do not recommend ironing and drying in the tumble dryer.
The duvet cover is made of velvet, 100% polyester, on the front and 100% cotton on the back. The velvet gives the cover a chic shine and feels soft. The cover has a double tuck-in strip and a total length of 260 cm. This is extra long, so that the duvet cover can easily be tucked under the mattress and cold feet are prevented. The cover is suitable for duvets of 200 cm, 210 cm or 220 cm. The cover can be washed at 40 degrees, is not suitable for the dryer and cannot be ironed.
The velvet trend is still going on. The luxurious, soft fabric is a wonderful addition to the bedroom. Rivièra Maison has therefore added new colors of the Estate duvet cover. The calm, but also attractive off-white color is perfect for the upcoming season. The velvet front provides the necessary luxury, while the airy cotton at the back contributes to your sleeping comfort.
The Rivièra Maison Estate duvet cover has a front of 100% polyester velvet. The back is made of 100% cotton. This fine fabric contributes to an airy, comfortable night's sleep. Cotton is highly breathable and absorbent. To maintain quality, it is recommended to wash the duvet cover at a maximum temperature of 40 degrees Celsius. The Estate cover has an extra long double continuous tuck-in strip.
RIVIERA MAISON
Rivièra Maison is a traditional Dutch brand that stands for exclusivity, warmth and atmosphere. Rivièra Maison is more than a brand, it creates a strong experience of 'a way of life'. Light colors are alternated with dark colors so that the brand fits in both modern and classic house styles.
DUVET COVER
A duvet cover keeps your duvet fresher for longer. It beautifies your bed and bedroom at the same time. Duvet covers are available in many different designs and they also differ in material. One fabric offers a warm night's sleep while the other provides cooling while sleeping.
estate
The new bedding collection at www.marliving.com consists of a spectrum of warm colours, rich materials and different styles and designs. All designs fit the latest trends, including boranical prints with flowers and leaves, beautiful landscapes and rough, beautifully crafted prints. In combination with the use of the variety of materials there is a stunning collection.
In the collection the material cotton, also combined with a waffle structure, linen-blend with an extra soft finish and a rich velvet with a beautiful chic sheen are used. All materials are of high quility and feel soft and breathable and are available in various colours
In short, the mix of colours, materials and designs gives the collection a unique character and a real feeling of home. Definitely all must haves for your bedroom see www.marliving.com
Our new autumn/winter bedding collection is on www.jolijtwebwinkel.nl. Discover all the new duvet covers and accessories . Our bedding collection is divided into five inspiring thems: Winter Clamping. Rugged comfort, Vintage Glamour, Precious Purity and Minimalist.
Winter Clamping at www.marliving.com
Surrounded by a wintery landscape with a frozen lake, shimmering in the sun. A gorgeous wintery scene, cold but sunny, a nostalgic feeling warms your heart. Inspired by such a perfect day on the ice, that is the winter glamping collection.
Shades of grey, blue and black combined with white and brass, make this collection cool, rugged and very luxurious. Enjoy the Winter!
Winter Classic Flannel at www.jolijtwebwinkel.nl Cotton flanel duvet covers are made of 100% cotton, a natural product. It is also called winter cotton. Flannel feels extremely soft and warm. This makes flannel duvet covers the perfect choice if you get cold easily. Even though flannel feels warm, it is still a breathable fabric. Flannel thanks its softness tot he brushed yarns and gives a cosy feeling.
Benefits of flannel: longstanding high quility cotton, breathable, natural product, extremely soft and warm, winter quality, cosy feeling, available in diferent colours and designs.
Rugged comfort at www.jolijtwebwinkel.nl This theme is inspired by rugged nature in the dark months of the year. The rugged Comfort collection is rugged with a spicy edge. The collection revolves around basic elements and is rugged duet o the use of dark colours; lots of black, green, deep dark purple-red and earthy brown combined with brass. Experience nature at home.
Super soft fabric with a beautiful sheen and luxurious feel
Cotton velvet Our velvet duvet covers are made of 100% velvet, polyester, combined with 100% cotton on the back They have a very soft and warm touch, which makes this product a good choice if you get cold easily. The velvet is characterised by a beautiful chic seen.
Benefits of velvet; very soft and warm touch, beautiful chic seen, cosy feelings, available in different colours and designs.
Vintage Glamour, we will take you back tot he sixties. The vintage glamour collection is playful and has allure! A reference to luxurious restaurants back in the day and inspired by idols such as Brigit Bardot. After all, we love a hint of glamour! The colours in this collection vary from white, soft taupe, almond brown and warm brown to black. Give your interior that extra finishing touch!
Hotel quailty percale; cotton percale; a new quility we are adding this season in Riviera Maison bed textiles collection is cotton percale. Cotton percale is finely woven high quality cotton. This makes the covers feel softer and smoother. The fine weave also makes the covers strong and sturdy. Percale has a good ventialting capacity and is cool and pure tot he touch. Bed linen made of cotton percale often has an extra-long life, which is why it is also called hotel quality. The hotel Boutique design is made of cotton percale and the name of the design gives a nod tot he nickname of the fabric. The piping all around and the embroidery on the front of the duvet give this design an extra luxurious look.
Precious Purity; Cosy living and a time of refelction, this is what the Precious Purity collection represents. With its soft materials, various textures and organic designs in light colour shades, you are reminded of a wintery day. With snowflakes falling outside and a cosy, pleasant warmth indoors. A collection that is great to combine, especially thanks tot he colours; neutral yet warm. Such as the trendy colours of caramel and white shades. Make your home extra cosy this season!
Create a cosy, neutral yet warm feeling when combining duvet covers. All great to combine, especially thanks tot he colours.